2月3日 (日) 節分パーティー!
from 18:30, 2500yen (for foreingers:1500yen) including one drink + sushi roll!
Snacks throwing                              Enjoy together!
Making Sushi-roll                           Sushi roll (Ehoumaki)
Mickey Houseの節分☆


毎年外国人だけでなく、日本人からも「初めて自分で寿司巻いた!」という声をきく節分パーティー。材料はこちらで用意するので、お好きな具材を入れて、恵方を向いてガブリと丸かぶりしちゃってください♪今年はちゃんと豆まきもします。外国人たちと一緒に日本の文化を楽しみましょう!
みなさま奮ってご参加下さいませ♪
Setsubun party!


On February, we have a traditional event called "Setsubun". We throw beans in the house to get good luck, and throw outside from the house to remove bad spirits.
We also eat a Sushi-roll called "Ehoumaki". It's a good luck food of Setsubun. We will prepare ingredients so you can have a go at making it yourself and after that lets all have a taste!
Date and Price
Date
3th, February (Sun)
18:30 – 21:30
Entrance Fee
一般&学生2,500円
For foreigners:1,500yen
ドリンク1杯+恵方巻つき
回数券は1回分を1500円に充当します。
昼間参加の方は+1500円にて参加可。
With 1 drink + Sushi roll
イベント内容(料金に含む)
What you get for that price!;)
Make a Sushi roll and eat!
(恵方巻きづくり)
Bean spreading
(豆まき)
Access & Map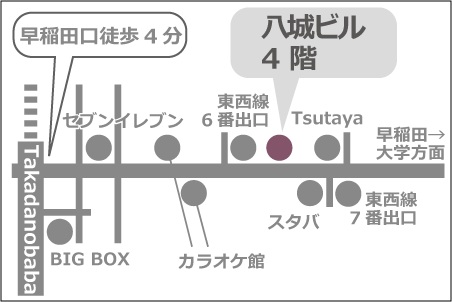 英会話喫茶ミッキーハウスは早稲田通り沿いですが4階なので多少入口がわかりにくくなっております。ビルの上の方に黄色い看板があり、赤い文字で英会話喫茶と書いてあります。
・JR山手線・西武新宿線
高田馬場駅早稲田口より徒歩4分
・東京メトロ東西線
高田馬場駅6番出口より徒歩30秒
東京都新宿区高田馬場2-14-4 八城ビル4F
電話 03-3209-9686
営業時間 月~土18:00~23:00
土~日13:00~18:00
※英語以外の言語は開始時間が異なる場合がございます。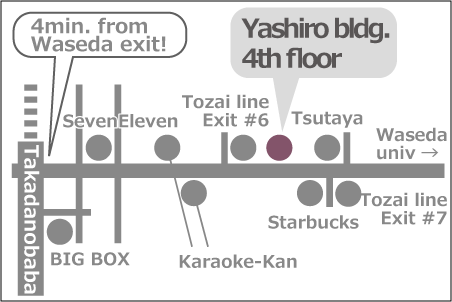 English conversation cafe Mickey House is along Waseda street but it's a bit difficult to find because it's 4th floor of the building. There is a yellow sign with "English cafe" written on the side of the building.
JR Yamanote-line, Takadanobaba sta.
4 minutes from Waseda exit.
Tokyo metro Tozai-line, Takadanobaba sta.
10 seconds from exit #6
2-14-4-4F, Takadanobaba, Shinjuku-ku, Tokyo
Phone: 03-3209-9686
OPEN (Mon-Sat)6pm to 11pm
(Sat,Sun)2pm to 6pm