Au Japon aussi on parle Francais! Bienvenue dans notre cafe multiculturel!
Le Mickey House Café, lieu d'échange linguistique, anime les nuits de Takadanobaba depuis plus de 30 ans.
Chaque semaine, rencontrez notre equipe et notre clientele venues des quatres coins du Monde!
vous n'etes pas le professeur!
Beaucoup de clients du Mickey House parlent deja les langues etrangeres proposees.
Dans une ambiance amicale et detendue, vous pourrez aborder tout sujets, de vos passions aux differences culturelles et linguistiques!
Relaxez vous dans votre langue ou pratiquez en une autre dans une conversation simple mais enrichissante!



Qu'est-ce qu'un cafe de conversation?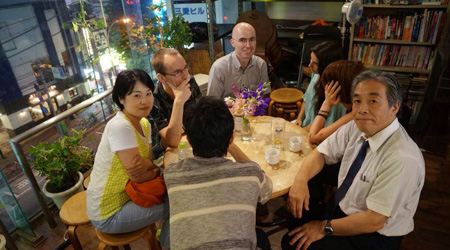 English table
Here you can concentrate for conversation without caring about age, job, nationality. In a living room atmosphere, you will be able to have a relaxing talk about a variety of subjects, ranging from languages to social issues. You can enjoy talking in multi-languages and deepen your cultural understanding.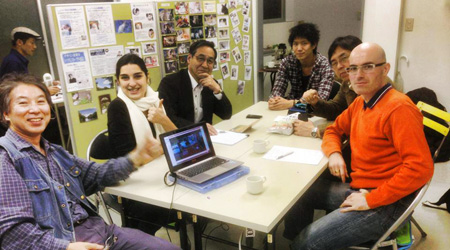 Other language tables
We also have other language tables. With the entrance fee, you can join to any language tables. (To join to beginner's table, 1900yen but 1500yen for students.)
Now we have a table for English, French, German, Spanish, Italian, Portuguese, Swedish, Russian, Polish(from Sep.), Chinese, Korean, Thai, Vietnamese, Hindi, Indonesian, Japanese.
"Click here to see the schedule of each language

Prix et Principe
Ouvert
Lun.-Sam.18:00~23:00
Sam.-Dim. 13:00-18:00
Hors Anglais, les autres langues commencent a 19h
Entrace fee
Etrangers:¥500
Sans limite de temps, the et cafe a volonte!
※Vous pouvez egalement commander une boisson (le premier verre sera a 500 yen).
If you would like to join the Japanese table, +¥500 (Saturday 6pm-9pm)
Menu
Biere : ¥ 500 ~
Vin : ¥ 500
Cocktails : ¥ 500 ~
Sans alcool : ¥ 350 ~
Cafes maison :¥400 ~
Biscuits apperitifs : ¥ 200
Le principe est simple. Vous payez l'entree ou commander un verre et vous pouvez rester jusqu'a la fermeture.
Nous vous proposons plusieurs sortes d'alcools, de cafes et de gateaux maisons!
(*Pour les Japonais, l'entree a 1900 yen, 1500 yen pour les etudiants. The et cafe a volonte inclus)
Emploi du temps
---
Mon:English - Portuguese - Swedish
Tue:English - Spanish - Italian - Russian
Wed:English - French - Hindi - Chinese
Thu:English - German - Russian - Polish
Fri:English Party - French - German
Sat:English - Spanish - Italian - Thai - Indonesian - Japanese
---
Sat(2pm-6pm): English - Chinese
Sun(2pm-6pm): English - Korean - Vietnamese
---
*Blue:7-11pm, Green:6-10pm, Red: 2-6pm
Schedule of beginner's tables
---
*To join in a beginner's table, you may pay the same price as Japanese customers. (1900yen for adults, 1500yen for students.) *Japanese table is just +500yen.
---
Tue:English - French
Wed:English - French
Thu:English - German - Russian
Fri:English
Sat:English - Spanish - Japanese
---
Sat(2pm-6pm): English - Chinese - French
Sun(2pm-6pm): English - Korean - Vietnamese
---
*Blue:7-11pm, Green:6-10pm, Red: 2-6pm

Japanese Table
We also have a Japanese conversation table!
If you don't have enough chance to use Japanese, come on every Saturday from 6pm to 9pm! PIPPS Japan volunteer staff will help your Japanese!
[[ Japanese table ]]
Entrance fee ¥500 + one drink

Offre d'emploi
Rejoignez notre equipe!!!
N'hesitez pas a nous contacter pour connaitre les offres actuelles.
Anglais - du Lundi au Dimanche
Francais - Mardi,Mercredi,Vendredi,Samedi
Allemand - Jeudi, Vendredi
Espagnol - Mardi, Samedi
Italien - Mardi, Samedi
Russe - Mardi, Jeudi
Chinois - Samedi
Coreen - Dimanche
Description du poste: Faire la conversation!
Une ou deux fois par semaine, 4 ou 5 heures par jour.
Tel.:03-3209-9686 (Yuta)

A propos de nos Guest Houses
La colocation est le moyen le moins cher de resider a Tokyo! Trouvons la Guesthouse qui vous va!
Voici les informations concernant nos 2 residences!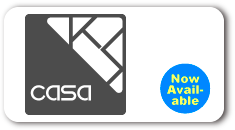 Casa KS
Quartier : Shinjuku
Station: Takadanobaba (8 min.)
Type : Chambre privee (ou partagee)
Prix : 40 000 yen~ par mois
Details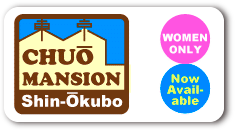 Chuo Mansion Okubo
Quartier : Shinjuku
Station 1 : Shin-Okubo (7 min.)
Station 2 : Nishi-Waseda (5 min.)
Type : Colocation (2~3 personnes)
Prix : 35 000 yen~ par mois
Details

Plan et acces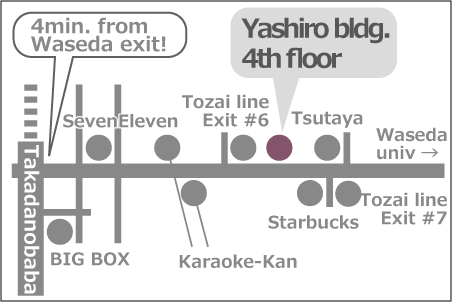 Le cafe est situe sur l'avenue Waseda dori, au 4eme etage du Yashiro bulding.
Une enseigne jaune "Mickey House" indique le cafe sur le cote de l'immeuble.
Ligne JR Yamanote, Takadanobaba sta.
4 minutes depuis la sortie Waseda.
Tokyo metro Tozai-line, Takadanobaba sta.
30 secondes depuis la sortie 6

2-14-4-4F, Takadanobaba, Shinjuku-ku, Tokyo
Tel. : 03-3209-9686
OUVERT 18h a 23h (*ferme le dimanche)
*Les langues autres que l'anglais commencent a 19h.

Copy Right(c) 2014 Mickey house All Rights Reserved.